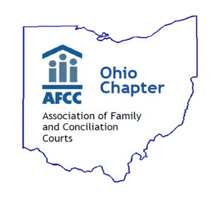 Ohio AFCC Annual Conference
Event Details
The Ohio chapter of the AFCC presents its annual conference, April 7, 2021. This virtual event focuses on challenging cases and includes three expert presentations to help practitioners effectively manage working with entrenched litigants, personality disturbances, and child custody forensic evaluations.
Program
Moving Beyond Intractable: Working Successfully with Entrenched Litigants - Dr. Matt Sullivan

Personality Disturbances and the Impact on Child Custody Disputes - Dr. Mark Lovinger and Melissa Seagro, LISW-S

Essential Components of Child Custody Forensic Evaluations - Dr. Leslie Drozd
Leslie Drozd, PhD
Dr. Leslie Drozd is a psychologist who has conducted child custody/parenting plan evaluations and served as a forensic consultant and worked as a testifying and didactic expert for 32 years. She has co-authored professional guidelines for conducting parenting plan evaluations and for those involving allegations of domestic violence. She has co-edited books, book chapters, and articles on domestic violence, treatment of trauma, alienation, gatekeeping, step-up parenting plans, relocation, psychological testing, child sexual abuse, parenting coordination, and family therapy with families with resist refuse dynamics. Dr. Drozd has received Association of Family and Conciliation's highest honor for distinguished service and for the year's most outstanding peer-reviewed article. She serves on the AFCC's Board of Directors and the American Psychological Association's Ethics Committee.
Mark Lovinger, PhD
Over the course of his 30 years' experience as a child and adult clinical psychologist, Dr. Lovinger has developed a diverse set of assessment and therapeutic skills that allow him to provide optimal care to children, adults, and families. Dr. Lovinger is a member of the Association of Family and Conciliation Courts (AFCC) and his specialties include helping families through the difficulties of divorce, parent coordination, preserving a cooperative and collaborative environment to maintain focus on the children's best interests, and conducting court-ordered custody evaluations.
As an Assistant Clinical Professor at Case Western Reserve University School of Medicine, Department of Psychiatry, Dr. Lovinger has extensive experience training and teaching psychodynamic, cognitive behavioral, and strategic family therapy modalities. He also has experience treating children with psycho-physiological presentations such as eating disorders, Tourettes Disorder, PTSD, and ADHD, as well as in the assessment and treatment of Personality and Mood Disorders. He conducts child and adult developmental, personality, and psychological evaluations, as well as legal and court-related assessments. Dr. Lovinger takes pride in developing a unique, warm, and empathetic relationship with each individual client.
Melissa Seagro, MSW, LISW-S
Melissa Seagro LISW-S is the Director of Family Evaluation Services of the Cuyahoga County Domestic Relations Court in Cleveland, Ohio, one of the largest trial courts in the state. She has over fifteen years of experience in addressing the needs of children and families. In her current role, she leads a team of mental health professionals who conduct Child Custody Forensic Evaluations. Ms. Seagro's objectives are to enhance services provided to promote equal access to justice in addition to supporting positive relationships among those seeking services of the Court. She holds a special interest in working with high-conflict families who are struggling with mental health including substance abuse. Recently, she has begun the process of enhancing the court's Forensic Case Management Service which addresses the needs of contentious parties who have on-going disagreements about the implementation of parenting plans.
Ms. Seagro is a member of the Association of Family and Conciliation Courts and is on the Board of Directors for the Ohio Chapter. Within this role, she is the Chairperson of the Education Committee and holds special interest in increasing training opportunities for those conducting child custody forensic evaluations in the State of Ohio. She is a graduate of Cleveland State University earning her Master's in Social Work with an emphasis in Macro studies. Ms. Seagro is an Independently Licensed Social Worker in the State of Ohio with a Supervision Designation.
Matthew Sullivan, PhD
Matthew J. Sullivan, Ph.D. has been in private practice in Palo Alto, California, specializing in forensic and clinical work in the Family Courts for 30 years. He is the author of numerous peer-reviewed articles, book chapters and books on topics related to work in high conflict shared custody situations. He is a pioneer in the development of Parenting Coordination role internationally.
He is the immediate Past President of the Association of Family and Conciliation Courts (AFCC) international organization. He served on the American Psychological Association Ethics Committee from 2016-2018. He is the co-founder of Overcoming Barriers, Inc., which is a non-profit organization that has developed a variety of innovative programs for high conflict shared custody arrangements. Dr. Sullivan received the 2012 Joseph Drown award for outstanding service to children by the Association of Family and Conciliation Courts, California chapter.